This shop has been compensated by Collective Bias, Inc. and its advertiser. All opinions are mine alone. #CueTheNewYear #CueVapor #SatisfactionAtLast #CollectiveBias. This post is intended for an audience of adults age 18 and older.

There's nothing better than receiving a gift that has been handmade. The fact that someone would take time out of their busy lives to create something extra special is as thoughtful as you can get. Sure they could have gone down to the local supermarket and bought one of the gazillion varieties gift cards that are for sale but instead they choose to make a gift that really means something. No matter what time of year or whatever the occasion, a homemade gift is always the best.
This past holiday season my friend and I decided to share only homemade gifts for Christmas. It was amazing. Not only was it fun to do but it was completely thoughtful and so meaningful. I decided to give her something that would be totally useful for her in the new year while she made the switch to vaping. I created a mini zippered pouch to hold all of her
vaporizer accessories.
I really loved how it came out. I want to share this super easy tutorial with you so you can make your own. And, if you don't vape you can easily use this as a clutch or cosmetic bag!
Now that the new year is in full swing I realize many of you guys are switching to vaping. From what I hear some of the products can be a little costly and complicated. Well, I have a great way that will help you crush your New Year's goal: the
Cue™ Vapor System
! It's super easy and so convenient providing satisfaction at last. You can also sign up for their subscription program and save 15% on cartridges!
"How simple?" you might ask.
You literally just take it out of the box, insert a cartridge, and vape. Vaping. Made Simple.™ You can't get any easier than that! You can even order right from your PC and have everything delivered right to your doorstep. Pretty simple right?! Okay now let's get started on our vape holder.
Faux fur, leather or other fun material
Interfacing (heat fusible)
Liquid Stitch (if not using a sewing machine)
Ruled cutting mat
Color coordinated zipper 12"
Cut fabric with either craft knife, rotary cutter or fabric scissors depending on the material. You'll need 2 pieces measuring 4" x 8" each.
Cut same size pieces of interfacing.
Place zipper face up on the top of interfacing. Place fabric, face side down, on top of the zipper.
Tops of interfacing, zipper, and fabric should all alight at the top.
Sew or apply Liquid Stitch along the top edge.
If using Liquid Stitch secure with clips until dry.
Repeat process for other side of the zipper.
Secure bottom and side edges. Whether sewing or using Liquid Stitch make sure to go over the top of zippers to seal together.
If desired, make a loop tag by simply stitching the sides together with fabric inside-out.
Pull inside-out. Use a craft dowel or chopstick to gentle push through.
With interfacing fabric facing out, sew or seal edge.
Fold in such a way that the zipper meets the opposite seam.
Unzipper halfway.
Trim excess material from both sides.
Pinch corners against their natural fold.
Measure approximately 1 ¼" from the corner on each side.
Sewn corners should look like the example below.
Now is the fun part....flip your pouch inside out. Voila! You are going to fall in love with these awesome little bags. Not only are they easy to make but they're fun and totally customizable.
These handy zippered pouches are the perfect homemade gift for anyone who vapes. You can hold your
Cue™ Vapor System
and easily carry them with you from home to work...even on vacation!
Have you recently switched to vaping?
They make it just about as easy as you can get!
Cue is designed simply. You can take it out of the box, insert a cartridge, and vape.
Vaping. Made Simple.™
What are your New Year's goals? I'd love to hear
in the comment section below!

Thanks for stopping by.
Please be sure to follow and subscribe
for upcoming DIY posts and tutorials.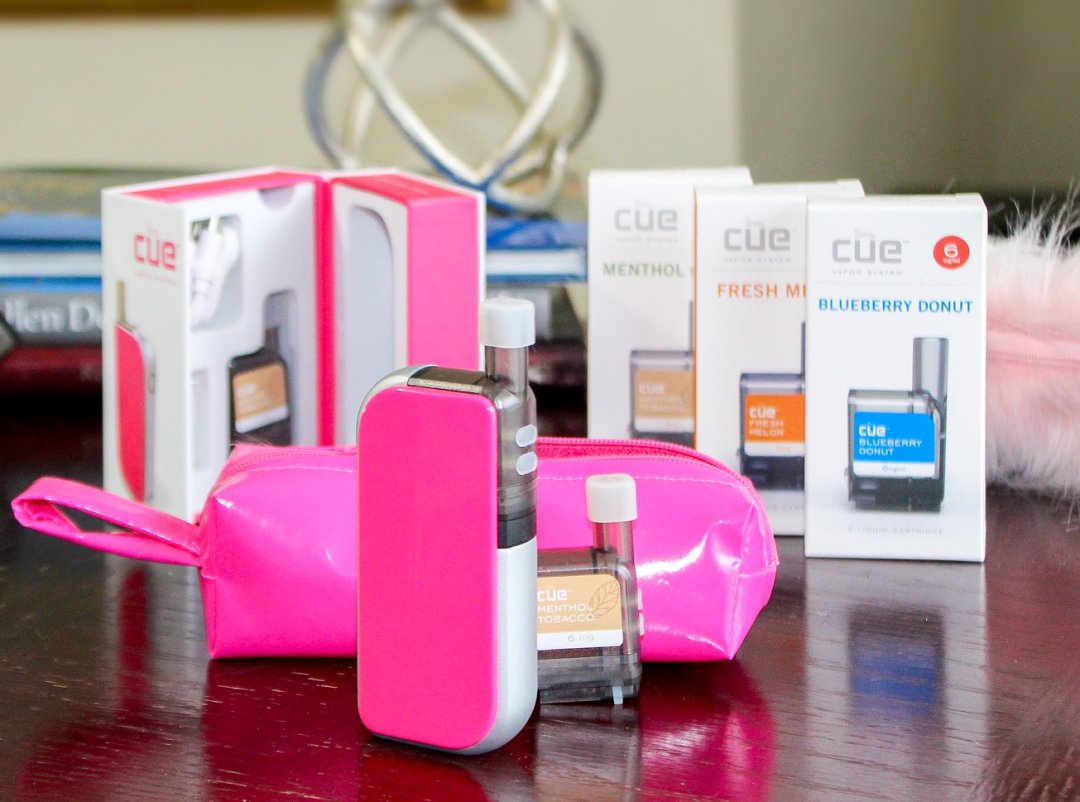 NOT FOR SALE TO MINORS. California Proposition Warning statement: "WARNING: This product can expose you to chemicals including nicotine, which is known to the State of California to cause birth defects or other reproductive harm. For more information, go to www.P65.com. WARNING: This product contains nicotine. Nicotine is an addictive chemical. Cue™, the Cue Logo and Vaping. Made Simple.™ are trademarks of Digirettes, Inc.