Hey, friends! Can you believe how fast the year is going by! OK, I know we're only a month in but doesn't it seem like so much has happened already. So far this year is off to a great start. I can already feel the unlimited potential and possibilities 2017 has in store. Let's continue the good vibes by looking at some of this year's newest ideas and a few of last year's hottest trends. I've compiled a list of my favorite DIY, craft, design and home decor trends. I'll let you decide which are here to stay and which have worn out their welcome.
1. RAW ORGANIC TEXTURES
This is such a broad category that encompasses so many ideas. Bare, unpainted, unstained wood, metal, cork, concrete and terracotta to name a few. These designs are everywhere.
You can always count on Mandi Gubler from
Vintage Revivals
to bring the latest and greatest ideas to the table. This sleek and simple chair is what the raw movement is all about...the raw-volution!!! It's all about bare, stripped down materials that bring your focus to the design. Notice the awesomeness of the natural tone raw, rustic leather cushions that pairing well with the simplicity of the modern wood chair.
How great is this table from
Seakettle?
You can't get any more raw that this. What makes it even better is that it's a DIY piece. That's right, it was made from actual log and $6 set of Ikea chair legs. Awesome!
2. MARBLE AND MARBLEIZED DESIGNS
What more can you say about marble? It's everywhere. You can find marbling in just about every craft, DIY, home accent and kitchen accessory. This design can be in simple grayscale or brilliant colors, what's not to love! If you want the real thing, you can't get any better than Carrara marble from Italy. It's some of the best quality you can find.
If you're looking to make your own marble design, try this technique with polymer clay from
Sara Johnson
Bre Purposed
has the most amazing faux marble tutorial. You've gotta see it...
3. CANING AND WOVEN PATTERNS
This is one of my favorite textures and patterns for home decor and crafts. The design translates well for both two dimensional (wallpaper) and physical material (chair caning.) Woven patterns are a great way to add visual impact without being overwhelming. This classic chair from
The Glitter Guide
uses a slightly modernized woven material.
Rocking Chairs: PoppyTalk
4. WATERCOLOR AND BRUSH STROKES
My utter love and enthusiasm for watercolor and brush stroke designs makes me want to put down everything and start painting random brush strokes everywhere. I love the bright bold watercolors and carefree brush strokes.
A Kailo Chic Life
created these amazing and functional plates and serving trays
Stuck On Hue
on etsy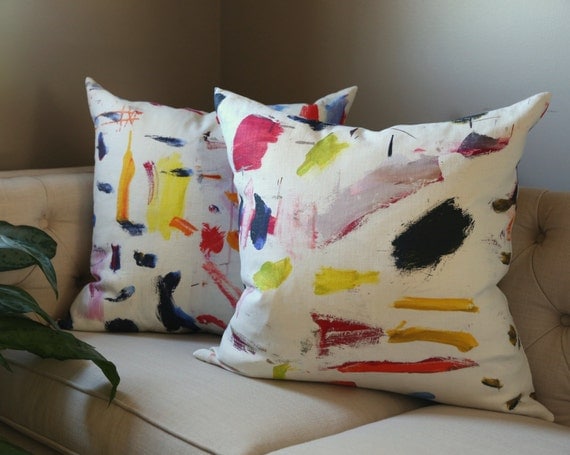 5. GALAXY AND CONSTELLATION
Galaxy art is everywhere. Dotted constellation patterns are just as popular. They've made their way into a wide array of designs from childrens wall art to high end jewelry. Both are a fun way to make unique crafts. How great are these eggs from
Dream A Little Bigger
?!
6. BRONZE, GOLD AND MIXED METALS
If you're looking to update your existing decor you can find tons of information from
Heidi Piron
. There is literally an endless supply of information on this site. I love the muted gold fixtures, they're a refreshing change from brushed nickel.
Making Lemonade
had a million great ideas for mixing and matching metals.
6. HOBNAIL GLASS
Hobnail glass has definitely made it's comeback. You can find tons of Fenton hobnail glass from eBay or etsy. If you're more more of a DIY person, you can even make your own. You'll love the great tutorial over at
Ciburbanit
y.
7. MIXED PATTERNS
When it comes to matching, throw everything you know out the window. Anything goes with patterns and arranging. This great quilt from
Nordstrom
is the epitome of mis-matched design.
The days of matching furniture are gone. For the newest trends combine sofas, chairs and tables that don't necessarily match, but share a common theme. These are a few example of how you can go from matching to magnificent!! This post from
Pretty Purple Door
says it all. If it feels right, just go for it.
Homedit
has a ton of great ideas. If you're still unsure about mixing and matching, you might want to look at the entire gallery to get a feel for what works.
What new ideas do you think will be the latest and greatest trend in the coming year?
Thanks for stopping by!
Don't forget to follow and subscribe!!!
You guys are gonna love what we have in store for next week's DIY post with Target.
You can find all of the awesomeness on TargetMadeMeDoIt.com.